Chip Dence likes nothing more than playing with his food.
Chip is a straight-talking, hands-on, no-nonsense kind of guy. His white hair and beard may be reminiscent of Santa, and he does seem to have a twinkle in his eye, but don't let that fool you – he is all business, especially in the kitchen.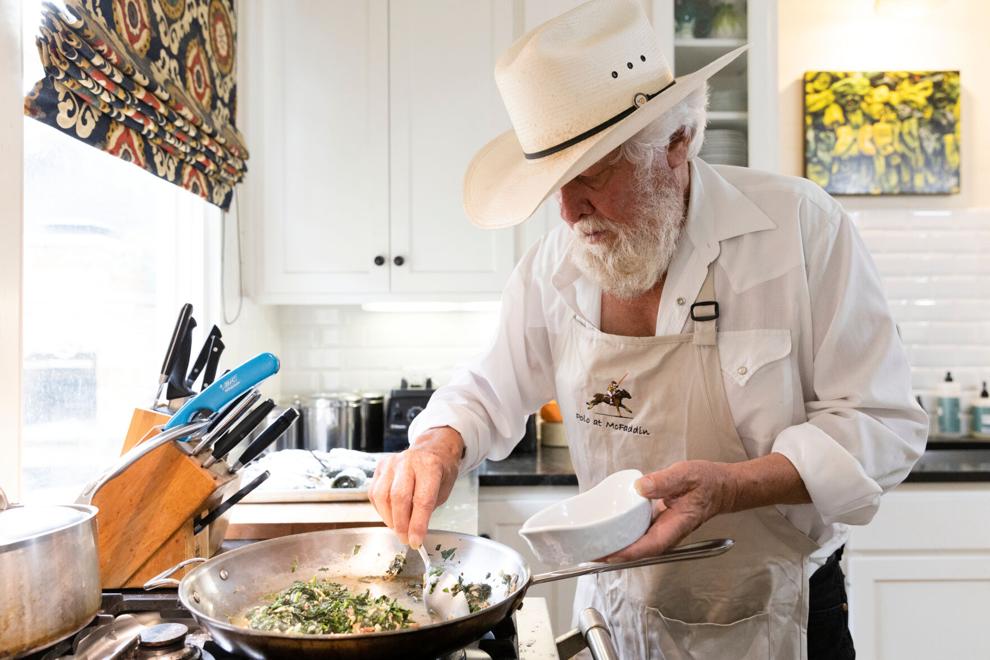 A former transport pilot for 26 years who co-owns East End Builders & East End Lumber Co. in Victoria, Chip has decades of professional experience in building construction and historic restoration. The Texas Builders Association inducted him into the Texas Housing Hall of Honor and Gov. Greg Abbott recently appointed him to the Texas State Board of Plumbing Examiners.
It is his cooking, however, that is truly legendary – especially his seafood. For years, his tailgating at the annual polo match at McFaddin Ranch wowed the crowd.
"Everybody liked my food best," he said with no hint of modesty about his talents.
Chip started cooking in a rather different way than most. He grew up in the southeastern section of the Adirondack Mountains in upstate New York.
"I am number three of eight kids," he said. "My father was both a preacher and a stonemason."
Chip said they had no electricity until he was 5, and "daddy gave me a chainsaw for my fifth birthday." His job was to provide firewood.
"With 10 of us in the household, we did six loaves of bread every other day."
The family had a wood-burning oven and, even though he was a young child, "it was my job to knead the bread," he said, because his mother had problems with her wrists.
It quickly became his job to maintain the oven, and he started making the bread on his own. "And then I realized pretty early on that everybody liked my bread better than mom's bread because I put more white flour in it," he said, laughing.
"I realized that I could please people by feeding them," Chip said. He explained his family was very religious and they "turned vegetarian – vegan actually – by the time I was 6. ... They went way crazy about the whole thing."
By the time he was 7, he was roasting fish or trapping small game and cooking it over a fire where his parents couldn't see him.
"I didn't subscribe to all of their ways of doing things."
At age 13, he left home "and never looked back."
Chip met his wife, Mary Jane, on May 18, 1969. They married exactly five years later.
"I never had an oyster 'till I met Mary."
Mary Jane revived his interest in cooking. He said when he was with Mary Jane, he had the same feeling as when he was a kid –that he could please people with his food.
"I found if I served her some goodies, it garnered me some favors. Did I say that correctly?" he said with a laugh.
He said his ideas, techniques and creativity with food were the result of "practice, practice, practice."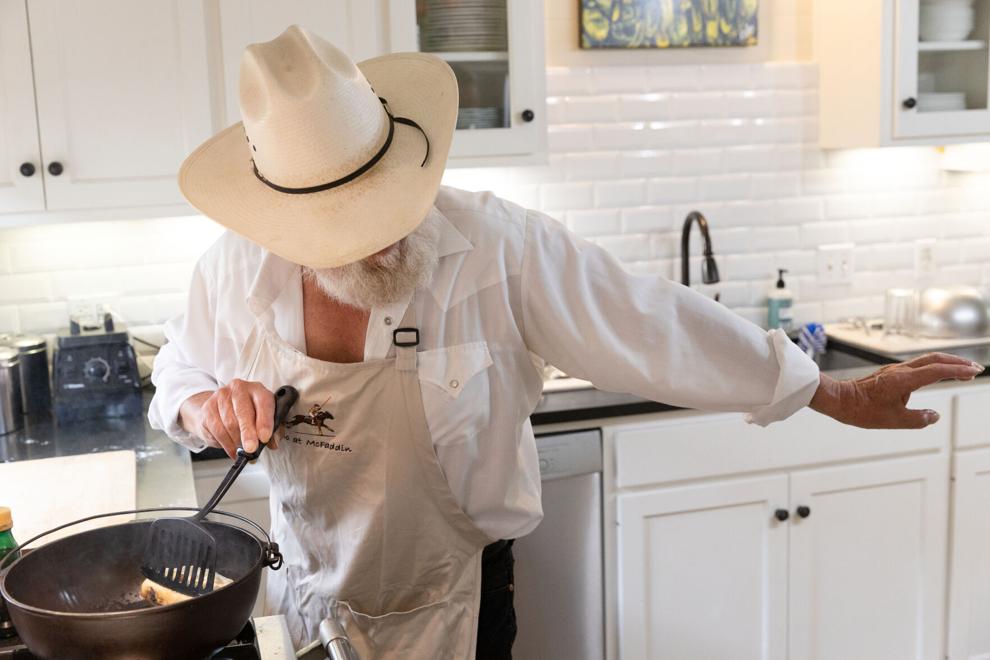 "Just play with your food."
Chip especially enjoys cooking using an open fire or wood-burning oven.
"I still cook on my own fireplace four or five nights a week."
On this particular Sunday afternoon, Chip, with the help of his friend, Scott McHaney, demonstrated several specialties using fresh Texas coastal seafood.
Scott is a chef, caterer and businessman well known for his cooking talents, as well.
Working in Scott's well-equipped kitchen and using his large wood-burning backyard oven, the two worked in tandem, with Chip directing. It was like watching two dancers, they seemed o in tune.
Watching Chip work in the kitchen, it quickly becomes apparent he doesn't follow any type of book or written recipes, although he said he has written many in a journal over the years. It was Scott who helped gauge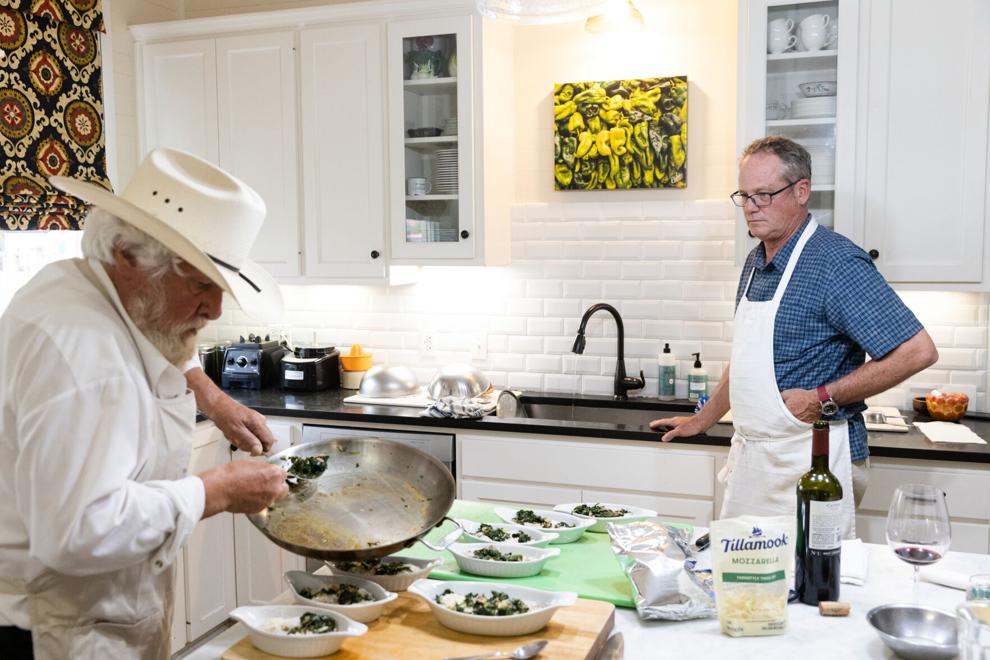 the amounts of various ingredients as they worked through the three dishes that would be presented that evening.
Chip's Ceviche, Chip's Chile Relleño and Oysters Chipo take time, especially if being prepared together. Several hours, in fact.
When cooking, Chip works with his hands, literally. Even when moving the poblano chiles in the outdoor oven he used his hands rather than tongs. He removes the seeds from them by hand, rather than a spoon.
It is obvious he enjoys the textures, flavors, aromas and tactile sensations of handling the food, making clear "playing with my food" is not simply a joke to him.
Chip insists that everything be fresh, as in right-off-the-boat fresh. For the shrimp in his stuffing for the Chile Relleño, he went to Port Lavaca's Big Bear Seafood Co. The red snapper came right off a friend's fishing expedition. It is the freshness of the ingredients that makes the biggest difference, he said.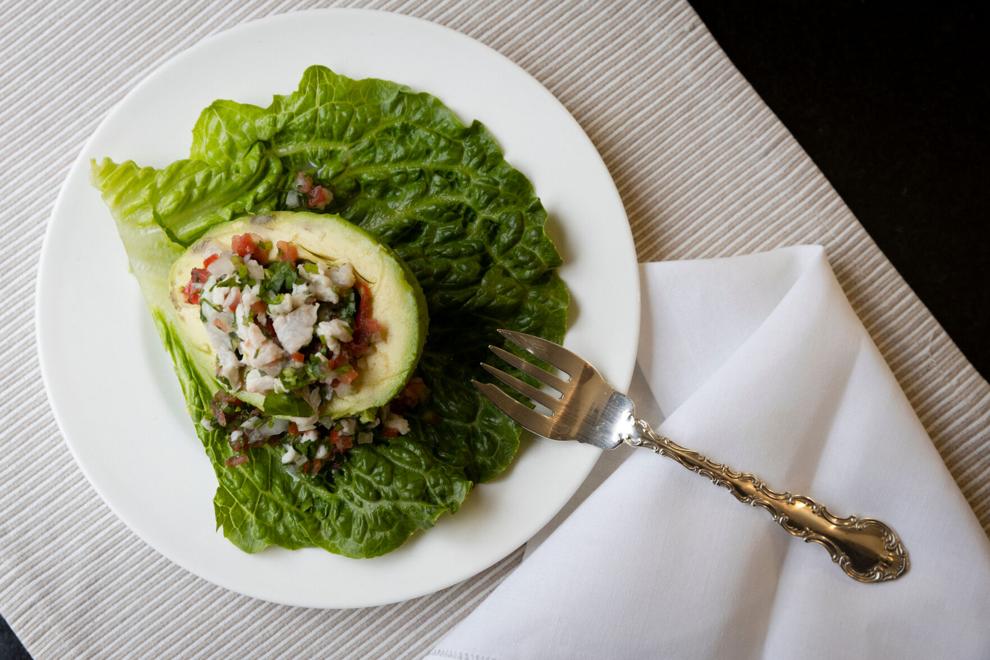 He also said everything he cooks can be "played with" in terms of altering ingredients and amounts according to a person's tastes.