Founded by Jodi Sandoval in 2017, this youth leadership program in Victoria is designed to open up choices to young people.
"The truth is," Sandoval said, "that if we have the right support, and we have access to choices, life is really OK."
The nonprofit organization uses a holistic approach based on five pillars of leadership: self-worth, advocacy, community service, discipleship and servanthood.
They offer community service projects, sponsor speakers from the community, have field trips and games and build teamwork through all kinds of activities.
The group meets the first and third Sunday of each month.
Teens Grounded offers windows of opportunity.
"I want to put as many different people in front of them," Sandoval said. "For instance ... We're going to have our local district attorney come and speak to them." The thought behind that visit is that a young person cannot aspire to something they are unfamiliar with.
As an example, Sandoval said when Barack Obama won the presidency, her older son was in high school. "And that day changed his perspective as a Black man, because people will tell you, 'you can be anything you want to be. You can even be the president of the United States.'"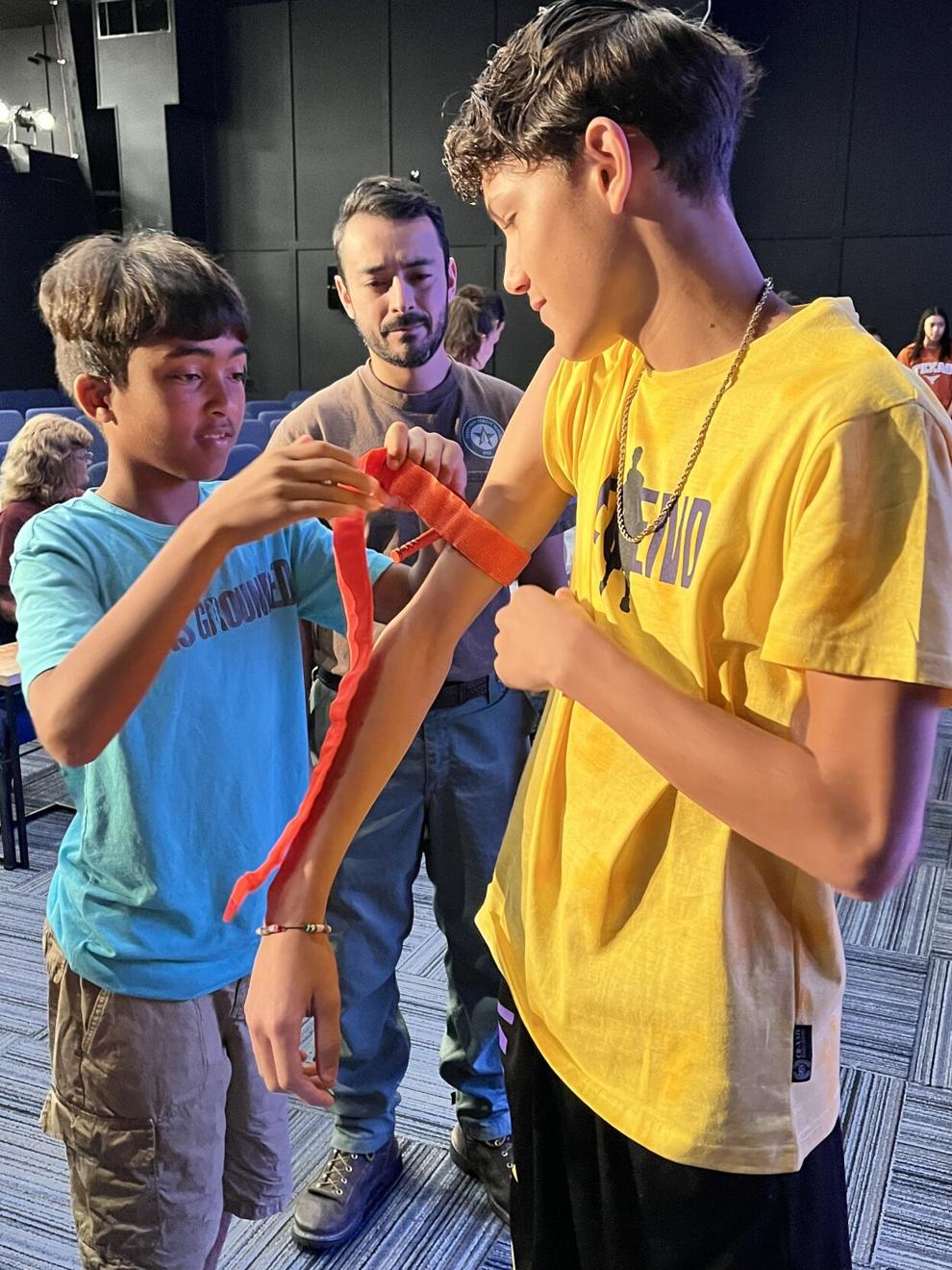 That was the day that saying became true to her son and others like him.
On this particular Sunday meeting at C3 Victory Church, Teens Grounded had arranged for instruction called Stop the Bleed with speakers Ralph Montes, Victoria County Public Health Department Public Health Emergency Management coordinator; Roel Esparza, regional fire coordinator with the Texas Forest Service; and Ashley Cano, program coordinator for Texas Healthy Communities and Be Well Victoria.
The teens listened to a detailed presentation on emergency care basics and then broke down into small groups to practice what to do to quite literally stop someone from bleeding to death, as well as basic CPR. 
The presentation included a video of a young skier who had an accident that seemed minor at first glance until everyone realized the young man had a massive laceration to his thigh injuring major blood vessels. He was bleeding out fast and had only minutes to live if something wasn't done quickly. A tourniquet by the ski patrol saved his life.
The members of Teens Grounded were attentive throughout the presentation, but the excitement came when they got into the practical aspects of first aid.
Montes explained to them that bleeding is a main cause of preventable death. He told the group they would discuss what kinds of accidents could happen in a ranch environment such as "maintenance, repairs, pastures, cutting trees, chainsaw injuries, penetrating injuries, and so forth."
He also spoke of everyday accidents around the home, such as trimming trees or mowing the yard. He especially emphasized to them that maintaining their own safety was their first duty – then to help another.
Three stations were set up with "body parts" such as a round "arm" (or perhaps leg?) with artificial wounds. One for packing, another smaller one for simple pressure. 
The goal? To practice how to stop bleeding quickly.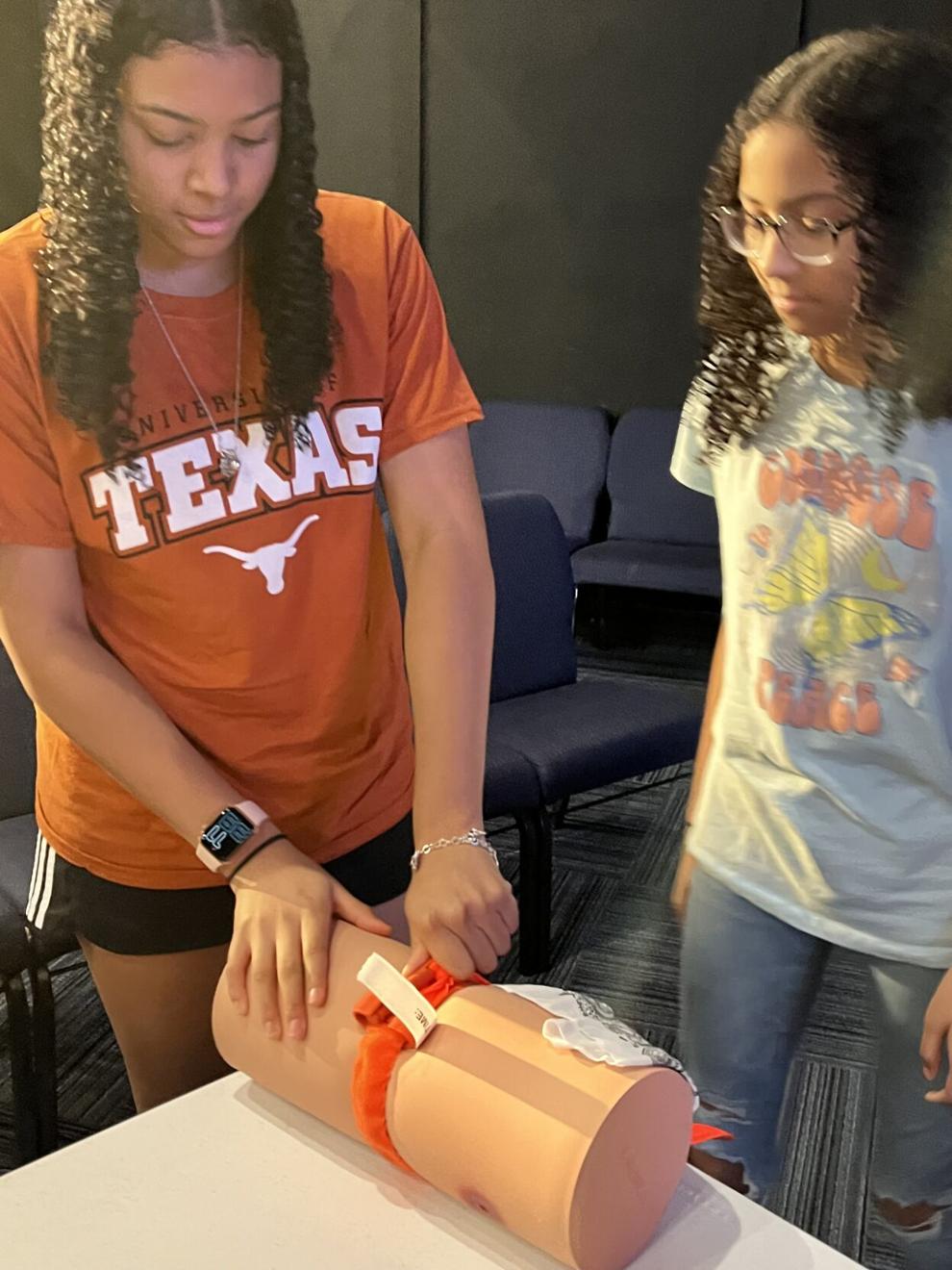 Packing a deep wound was definitely the most difficult and there was a bit of cringing from time to time.
Learning to use the tourniquets required use not just on the dummies but on each other. A bit of wincing was to be expected if done correctly.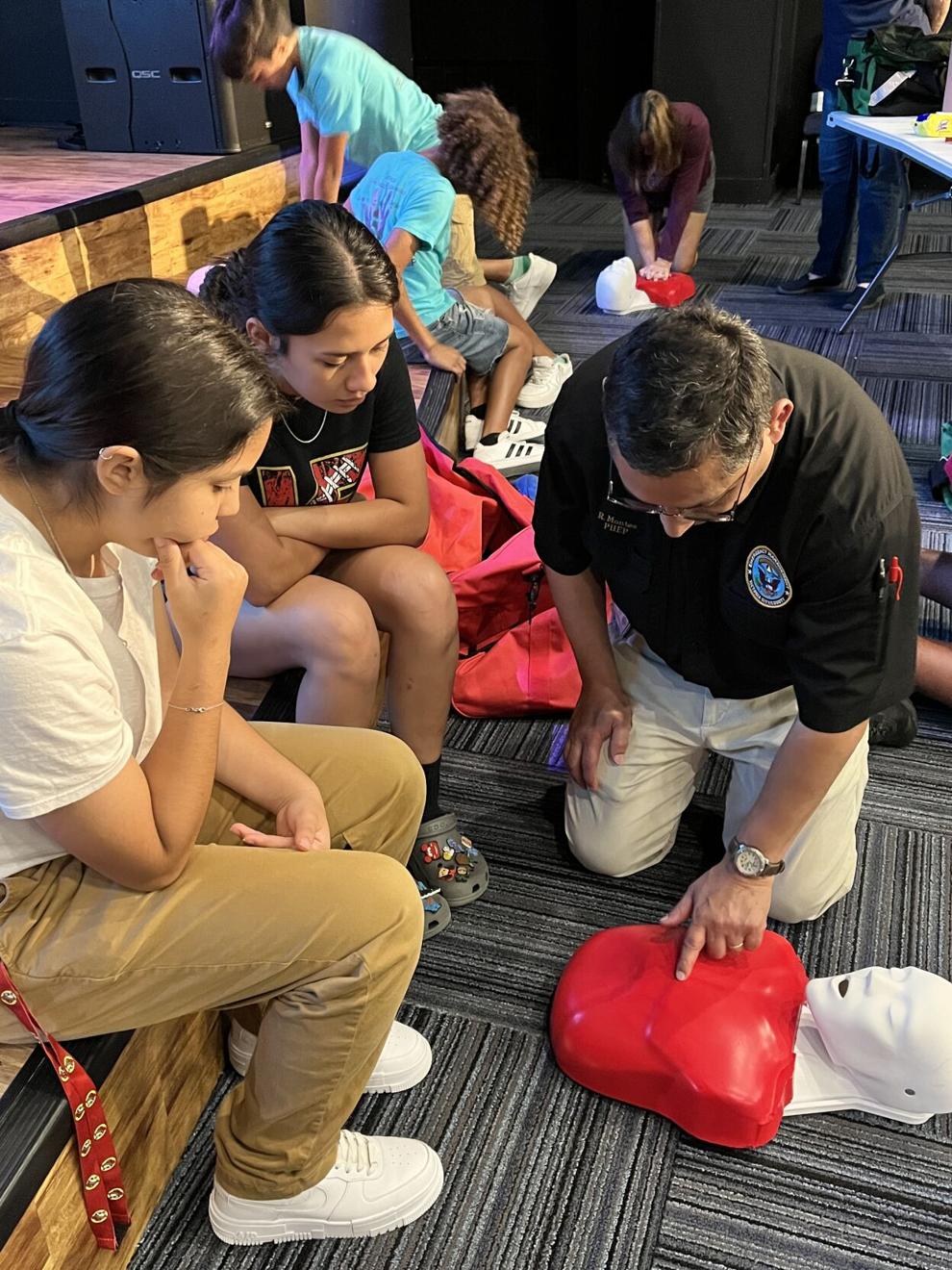 Tourniquets hurt, although they can save a life when normal measures to stop a person from bleeding fails, the teens discovered.
When CPR time rolled around things got really lively. The Bee Gee's hit "Stayin Alive" is evidently the correct rhythm for the compressions, so the teens began singing as they pumped the chests of the dummies to the music – getting out of breath and finding out how much work is involved. There were a lot of smiles and shouts of "I did it" when the lights on the dummies showed they had gotten the compressions correctly and "saved" their dummy.
Esparza, Montes and Cano stepped in whenever help was needed to adjust the teens' positioning or pressure.
Jayla Girdy, 12, said she heard about Teens Grounded from her mom, who found out about it on Facebook. "There's different things that you could do to save other people," she said, adding she had not known anything about  tourniquets until the presentation. "I didn't know that you could do something like that."
She wasn't sure if she could do the pressure on wounds in an emergency but could probably do CPR.
Jayla said she would like "to do something in the medical field" when she's older, "So this is really cool."
When asked about other activities, she said the group does "a lot of community stuff. Like we've done cleaning in the neighborhood." 
Jayla said she thought other teens would enjoy Teens Grounded, "Because you get to learn a lot of new things, and it helps with team building."
Dreyten Tremble attends Victoria East High School and wants to be a marine biologist. He said the best thing about Teens Grounded is it helps kids grow in the community, and understand that the people around you "Love you and you have some control."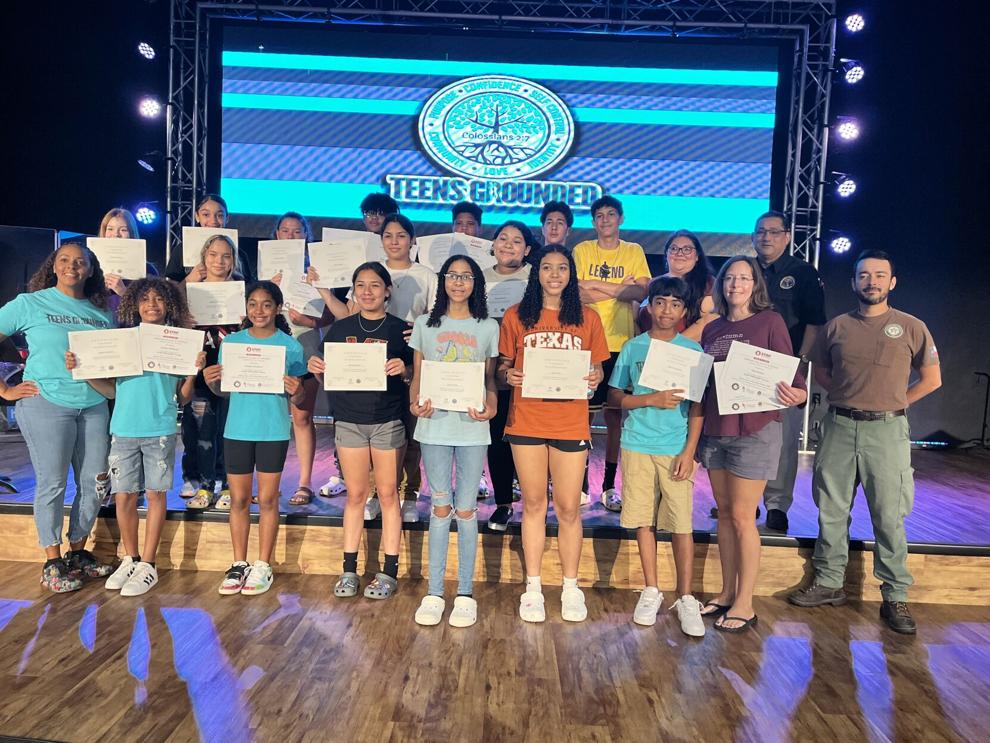 Sandoval said she recognized "as a youth leader, I was definitely encouraging my young people spiritually, but there was just a much bigger part to what young people are, you know. What about their physical needs, and what about their emotional needs?"
She felt they needed a more holistic approach. And so, Teens Grounded was born. 
The inspiration for Teens Grounded leads back to God for Sandoval.
"The true meaning of leadership was led by Jesus, he was a servant. He served the people. Anybody can do  community service ... But it doesn't necessarily make you a servant. ...Community service, for me, has been a completely different experience. I think it puts you in the place of other people. Because it's different seeing people from where you sit versus actually being in somebody else's shoes."