It's shortly after 8 a.m. and the phone is ringing in Majic 95.9's studios on the fifth floor of Laurent Towers. As ZZ Top fills the studio, Gary Moses picks up the phone and greets the caller.
"Mornin'!" he says. "How you doin', sweetheart?"
The woman on the other end of the line has been calling into Ralph Salazar's morning show for 25 years now. Moses, a longtime friend of Salazar's who became his co-host at the start of the pandemic — in addition to regular appearances on KVIC and other local stations — answers the phone for two hours every morning, ready to greet callers with the same warm, boisterous voice that has become familiar to so many community members over the past decades.
Anyone who has spent more than a day or two in Victoria has probably crossed paths with Moses, who is affectionately known to most as "Brother Gary" — a nickname bestowed by a DJ on KVIC long ago. After teaching U.S. and Texas history for 37 years at Patti Welder Junior High, Moses, 72, now spends his days as Victoria's unofficial mayor, attending a half-dozen events a day and spreading good cheer wherever he goes.
Moses is a perpetual source of optimism and the most coveted emcee around. He is a fixture at local pageants and parades, birthday parties and quinceañeras, weddings and visitations. Ask around, and you'll hear people describe him as an "icon" and the city's "backbone." Pins with his mustachioed face can be found all over town.
To many, Moses has become more than a civic leader. He is part of the fabric of Victoria, as much a part of the city's identity as DeLeon Plaza or the Guadalupe River.
The love between the man and the city is mutual, which explains why Moses spent the weekends in Victoria while getting his teaching degree at Southwest Texas State College, and why he has taken only three brief vacations in the decades since then — one to Puerto Vallarta and two to Las Vegas.
"If you hang around, man, you get the best," he said.
As the distorted chords of "Sharp Dressed Man" fade out, Salazar and Moses launch into an effortless patter honed over their years of friendship. With the microphone turned on, Moses bubbles with enthusiasm.
"I was kidding with him the other day," Salazar says. "I said, 'It doesn't take much to make you happy, Gary — just give you a mic.'"
On air, Moses wears a white button-down shirt, red straight tie and wire-rimmed glasses, his hair neatly combed back. He's been awake since 4:30 in the morning, but he hasn't had a sip of coffee all day.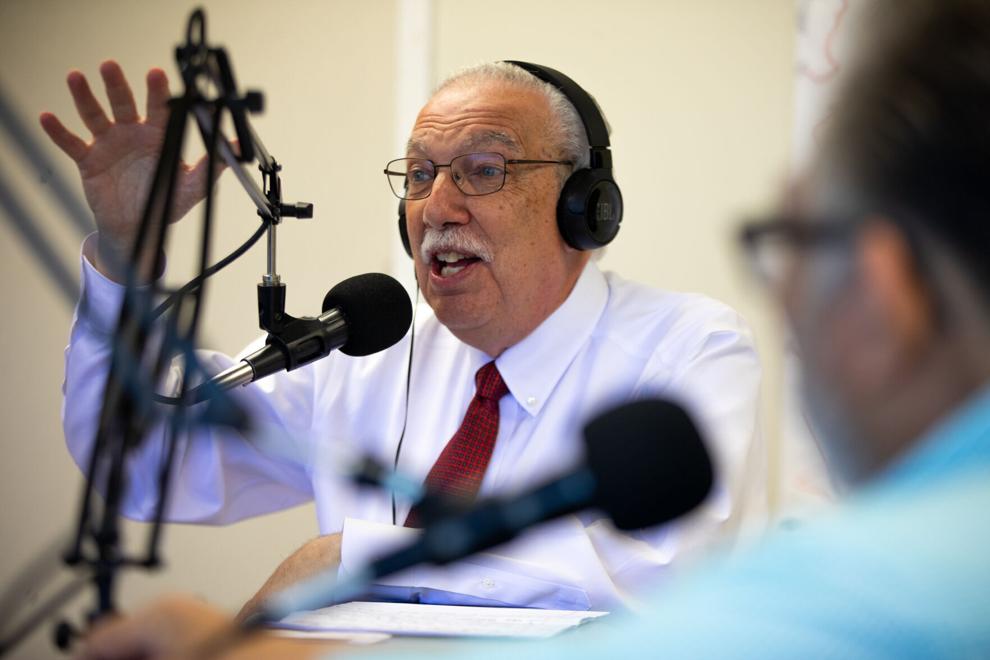 Instead, a bottle of Sunny D — his beverage of choice — sits inches away from the studio's phone, which continues to ring all morning long. Oftentimes, Moses is so busy that he skips meals entirely, preferring to eat once he returns home. The busiest man in Victoria relies on nothing more than the sugary citrus drink and his seemingly limitless zest for life to propel him through the day.
After Salazar greets Majic's listeners, Moses rattles off several upcoming events he plans to attend. There's a pet adoption at PetSmart, a car show at the Morada East retirement community and hamburger night at VFW Post 4146 — and that's just Wednesday.
"If I'm not busy, I'm not good," he says.
Others might crumple if they attempted to maintain Moses' schedule, but after nearly four decades of teaching, Moses is comfortable staying on his feet. A little while ago, he switched out his Cole Haans for black Johnston & Murphy shoes, which he describes as "dressy but comfortable." Aside from that small concession to comfort, Moses keeps on rolling just like always.
At 10 a.m., it's time to sign off the air and head to his part-time job at Citizens HealthPlex, where he works part-time as a greeter, bumping fists and bantering with gymgoers in the air-conditioned lobby.
Not everyone would be able to maintain strong ties with so many people while maintaining a personal Rolodex that rivals the white pages, but Moses seems able to effortlessly recall the names of people he has just met. During his years as a public personality, he's developed a few tricks. When chatting with someone for the first time, he often repeats their name in conversation, and might also write it down on a piece of paper kept in his pocket, along with annotations ("S" for short, "T" for tall) to help jog his memory.
Moses might well be the most overqualified gym greeter in the country.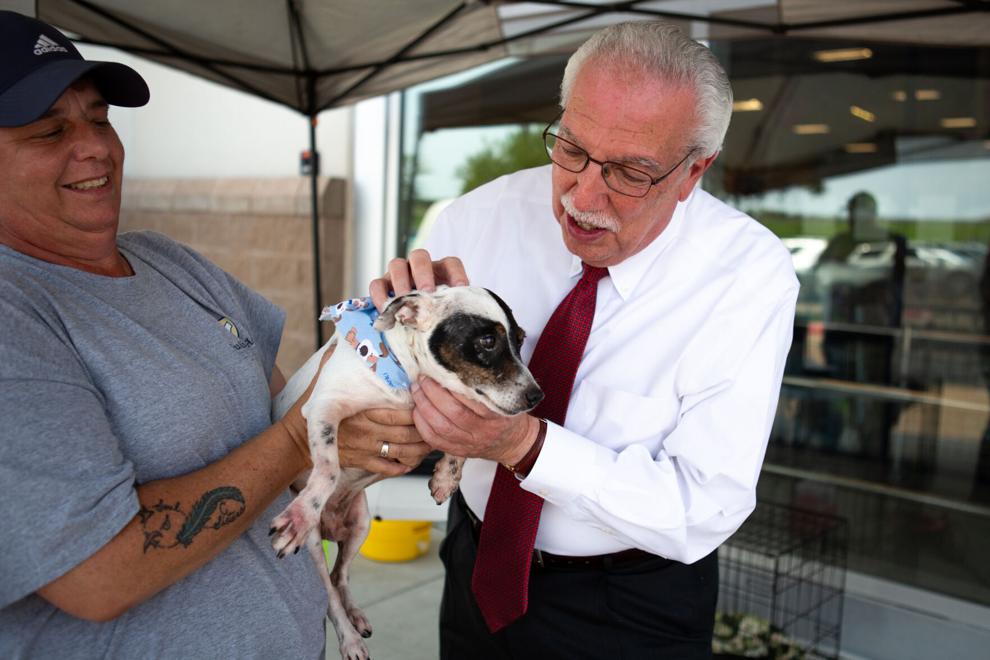 In the early afternoon, it's up to the 12th floor of One O'Connor Plaza, where Moses records his weekly video segment with the Advocate, then over to PetSmart, where he takes a break from shaking hands with humans to pet the puppies in Pitty Paws Rescue & Transport's adoption tent. Moses has attended all of the rescue organization's adoptions since Pitty Paws was founded in spring 2018, founder, Brenda Bleier says.
"Who wouldn't want him here?" Bleier says. "He's fun — he's such a supporter ... It definitely helps get the word out. It's just huge."
After an hour or so at PetSmart, it's up Navarro Street and over to Morada East for a classic car show hosted by the Crossroads Cruisers Car Club. Moses is greeted warmly by the retirement community's residents and the veterans whose vehicles are on display. The scenery has changed from kittens to Corvettes, but he still fits right in.
Moses regularly emcee's the club's car shows, which raise thousands of dollars for local nonprofits like Adopt-a-Pet of Victoria, Christ's Kitchen and Food Bank of the Golden Crescent. You could try to calculate all of the charitable contributions he has inspired over the years, but you'd probably need a few extra digits on your calculator.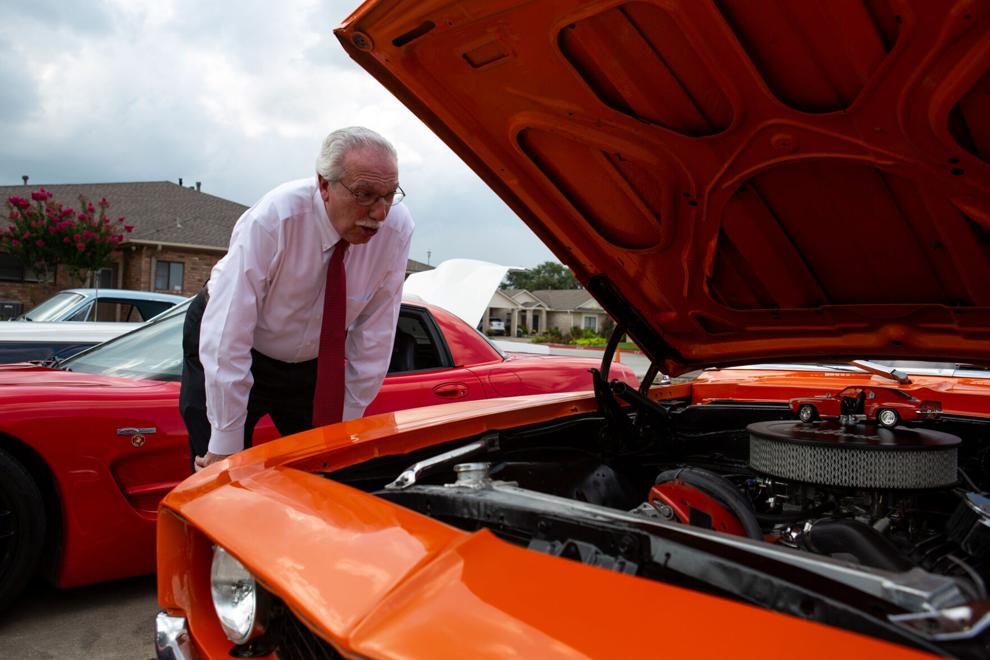 "It's hard to get him to keep still," Roy Gutierrez, president of Crossroads Cruisers, says. "Regardless of what he's got going on that day, he's always there."
Karen Slusher, Morada East's sales and marketing director, first met Moses as a 14-year-old working at Victoria's YMCA and she now sees Moses at the car shows, parades and holiday events he regularly attends. Days later, he's returning to emcee a "gorgeous grandmas" beauty pageant. Slusher says a resident approached her before the car show to make sure she had invited Moses.
"He's just always so up and positive and personable," Slusher says. "You can't be sad around Brother Gary. It's contagious, the way he is."
It's 92 degrees outside, and everyone else is taking shelter under shady tents, drinking Bud Lights and Coca-Colas, but despite his button-down shirt and dress pants, Moses appears completely unfazed by the heat. He doesn't even loosen his tie. Instead, he heads off to the Southside, where VFW Post 4146 is hosting its weekly burger night.
Typically, Moses orders two plates for himself, at $4 apiece, then pays $20 for them. Tonight, he has company, so he orders five.
In the four years since Andy Rosalez became the post's commander, Moses has only missed an event once, as far as he can recall, including fundraisers for the loved ones of local veterans who have passed away and the Veterans Day Parade, where Moses is a staple.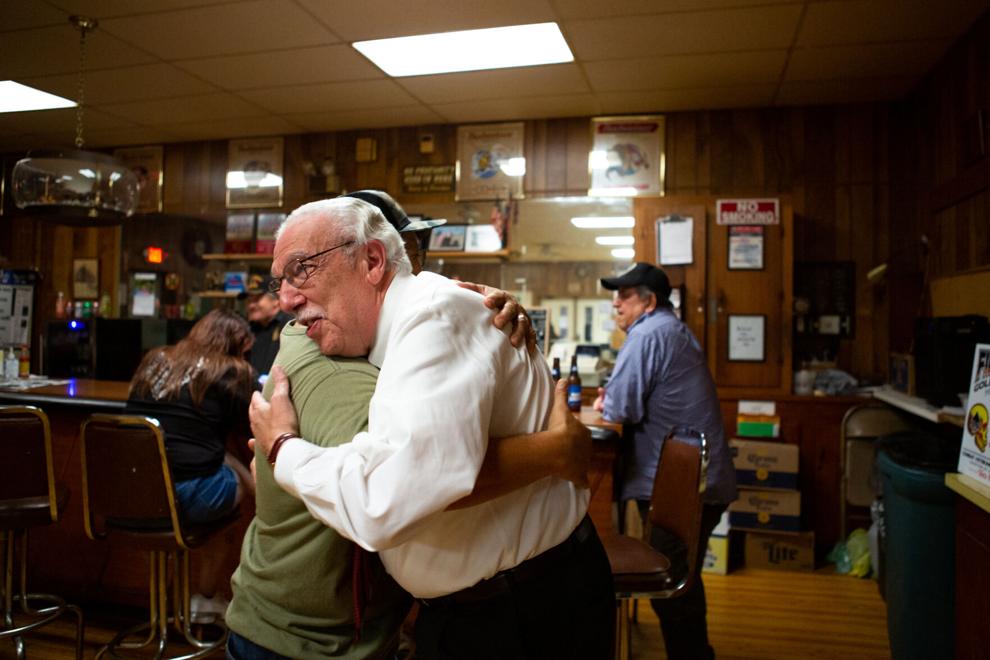 While the burgers sizzle on the grill, Moses makes the rounds, doling out hugs and handshakes and greeting many of the attendees by name. Victoria has changed over the years, Moses says, but it's still close-knit enough for him to walk into almost any room and find it filled with friends.
"Victoria's a tight-knit city. It's grown, but it's still small-town," he says. "It's been good to a lot of people."
With the burger night well underway, Rosalez steps into the hall's wood-paneled bar to address the crowd.
"I'd like everybody to meet Gary Moses," he says, and everyone bursts into laughter, followed by a round of applause. "Burger night at VFW Post 4146 is now an official function."
As the day winds to an end and Moses heads back to his Toyota 4Runner to drive home, he points skyward and thanks the Lord. Another day as Victoria's unofficial mayor is in the books. Tomorrow, he'll wake up before dawn and do it all over again.
"I'm blessed," says Brother Gary. "If I'd tried to plan it myself, I don't think I could have done any better at planning the way it could have gone for me in my life — pretty doggone good."