It's the birthplace of Tex-Mex, which can be experienced in its culture, music and cuisine. It's home to the most popular tourist attraction in Texas. It's a city where art comes to life.
It's colorful, it's casual and it's authentically Texan. 
Located deep in the heart of Texas, San Antonio is a beautiful blend of Mexican and Texan culture. With a bold spirit and a rich history that dates back more than 300 years, San Antonio is committed to preserving its past but also progressing forward for its future. 
Home to everything from historic missions and museums to family attractions and one-of-a-kind shopping, it's no surprise that San Antonio is the second largest city in the state. According to information provided by Visit San  Antonio, it's the seventh largest city in the U.S. and one of the fastest growing. The city is host to more than 39  million visitors each year, according to Visit San Antonio, as people flock to the city for a true taste of Texas spirit.
Remember the Alamo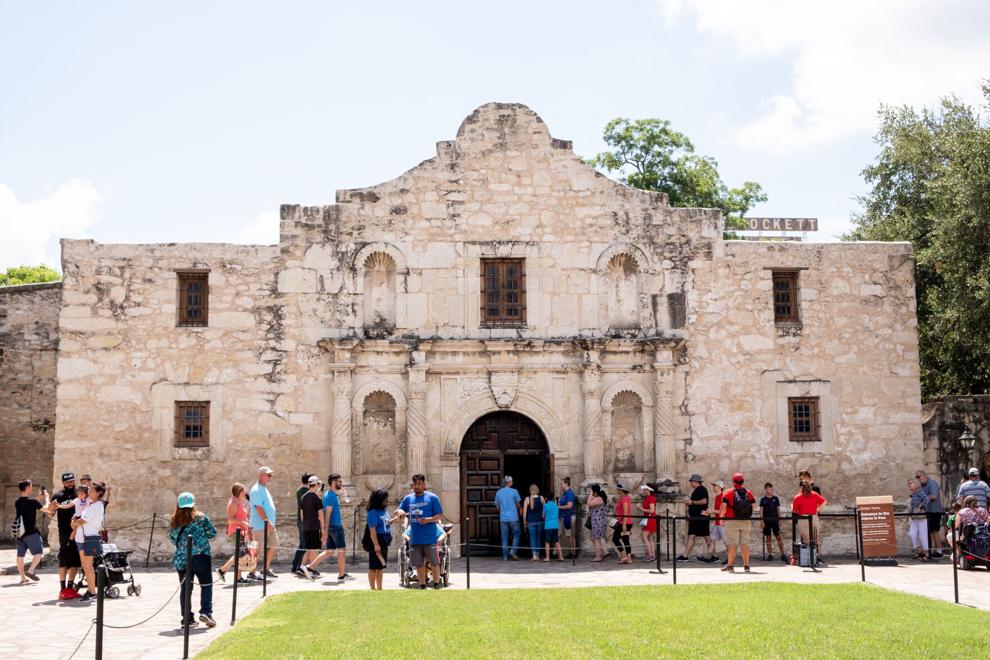 Throughout its history, San Antonio has been a colony of Spain, a territory of Mexico, a part of the Republic of Texas and a city in a state in the United States.
Today, remains of 18th century Spanish structures dot the city, offering visitors a glimpse into the past. The oldest and most iconic is the Alamo, which stands today as a cultural icon.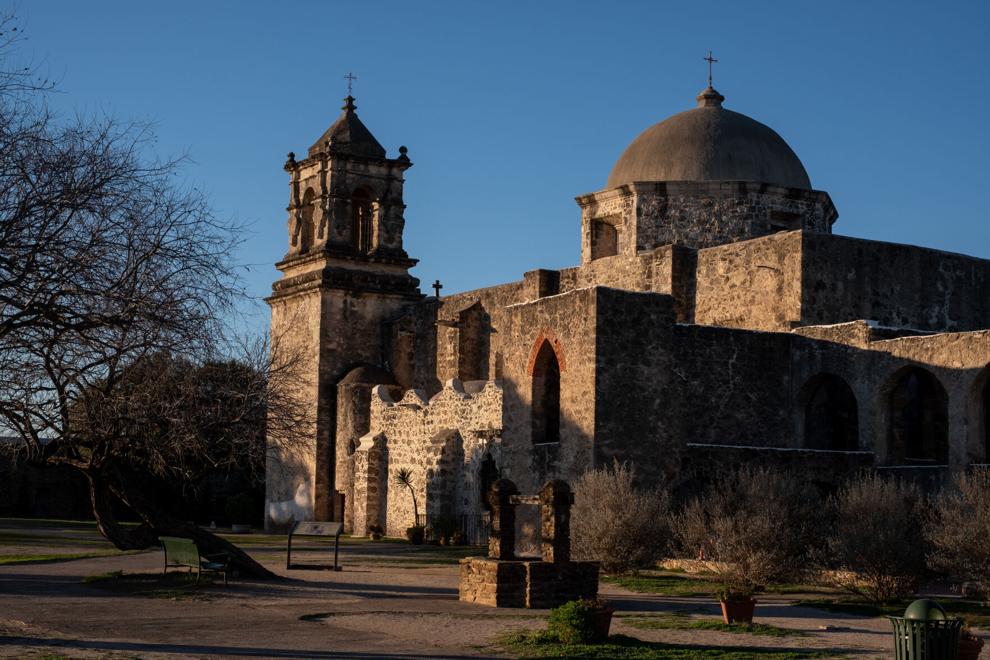 The Alamo originally was known as Mission San Antonio de Valero. The mission, from which the city derives its name, was founded in 1718 by Fray Antonio de Olivares. Subsequently, four additional missions, founded by Roman Catholic missionaries, opened in the area: Mission San José, Mission Concepción, Mission Espada and Mission San Juan.
In the 18th century, the five missions collectively formed the largest concentration of Catholic missions in North  America.
Today, the city continues to preserve the historic structures so visitors may experience their history and architectural beauty.
In 1978, the United States Congress created the San Antonio Missions National Historical Park and in 1993, the city of San Antonio created the concept for the Mission Trails hike-and-bike system. The city provides routes for visitors to walk or bike between all five missions. All the missions remain free to visit; however, some additional features at the Alamo have a fee.
Additionally, Missions San José, Concepción, Espada and San Juan continue to have church services. While the  Alamo no longer has church services, the church itself at the historic site remains open to visit. 
In 2015, the five San Antonio missions were designated a UNESCO World Heritage Site. There are 24 UNESCO World Heritage Sites in the United States. The San Antonio missions are the only site in Texas. Of the five missions, the Alamo –of course – went on to hold an even greater place in history as it was the site of a historic battle in Texas' fight for independence from Mexico.
According to Remember the Alamo Foundation, a nonprofit organization that provides support for the historic site and its preservation, more than 1.6 million people visit the Alamo each year.
In 2011, the Texas Legislature tasked the Texas General Land Office with management and preservation of the Alamo. In 2015, efforts began to restore the Alamo and in 2019, Alamo Plaza was reunited with the Alamo Church and the Long Barrack, the last remaining structures from the 1836 battle.
Today, construction is underway for a new 24,000-square-foot Alamo Exhibition Hall and Collections Building, according to Alamo Trust. The new facility, which is slated to open later this year, will house Alamo artifacts and  items from two collections under one roof. It will also feature exhibition space to serve as a museum until a new  museum and visitor center is built.
Longer range plans include opening a new Alamo Visitors Center and Museum in 2026.
Vibrant culture
No visit to San Antonio is complete without visiting the Downtown District, which is home to the River Walk, Market Square, Hemisfair Park and other popular attractions that offer glimpses of San Antonio's culture.
The San Antonio River Walk –which is one of the city's most popular attractions – features shopping, dining,  sightseeing, hotels, and more on a 15-mile oasis along the San Antonio River. Visitors can explore the River Walk by foot or by boat.
Narrated barge tours are a popular way to experience the River Walk.  Along the River Walk, brightly colored  umbrellas line the riverbank. They're adjoined by tables in which diners enjoy a variety of food, typically the city's famed Tex-Mex, while catching views of the river.
Though lined with visitors, the River Walk offers a sense of tranquility amid the city.
Nearby, Market Square offers a completely different atmosphere that deeply reflects San Antonio's ties to Mexico, and visitors might just hear the tunes of a Mariachi band or two while exploring.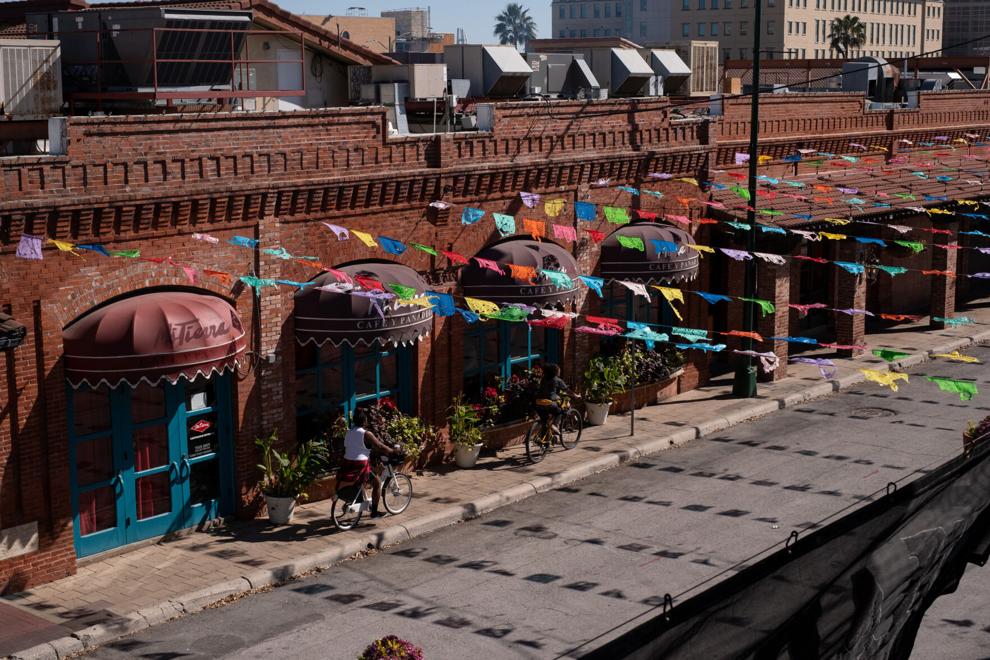 Market Square is a historic plaza that serves as both a market and social hub, encompassing three blocks of shops, galleries and restaurants. The shops in the market allow visitors to purchase Mexican hand-made goods.
In some cases, artists can also be seen working on-site.
Market Square is reputed to be the largest Mexican market in the U.S. It's also home to some of San Antonio's most renowned Tex-Mex including the iconic Mi Tierra Café and Bakery.
The market is also a popular location for many concerts, especially Tejano concerts, and other events. 
For a dose of outdoor family fun, visit Hemisfair Park. The park features abundant green space, an amazing playground, native flower gardens, and it's home to the Tower of the Americas.
Standing at 750 feet tall, Tower of the Americas offers the most spectacular views of the Alamo City. 
The Flags Over Texas observation deck gives stunning views and enables guests to learn about the history of  the six flags that once flew over Texas.
An admission ticket also includes access to the Skies Over Texas 4D Theatre Ride, which takes visitors on a trip across Texas.
Tower of the Americas also offers a variety of dining options, such as Chart House, an award-winning restaurant that offers revolving views of the city below.
Contemporary neighborhoods
Intermixed with San Antonio's historic districts are revitalized areas that are bringing new life to some of the city's neighborhoods.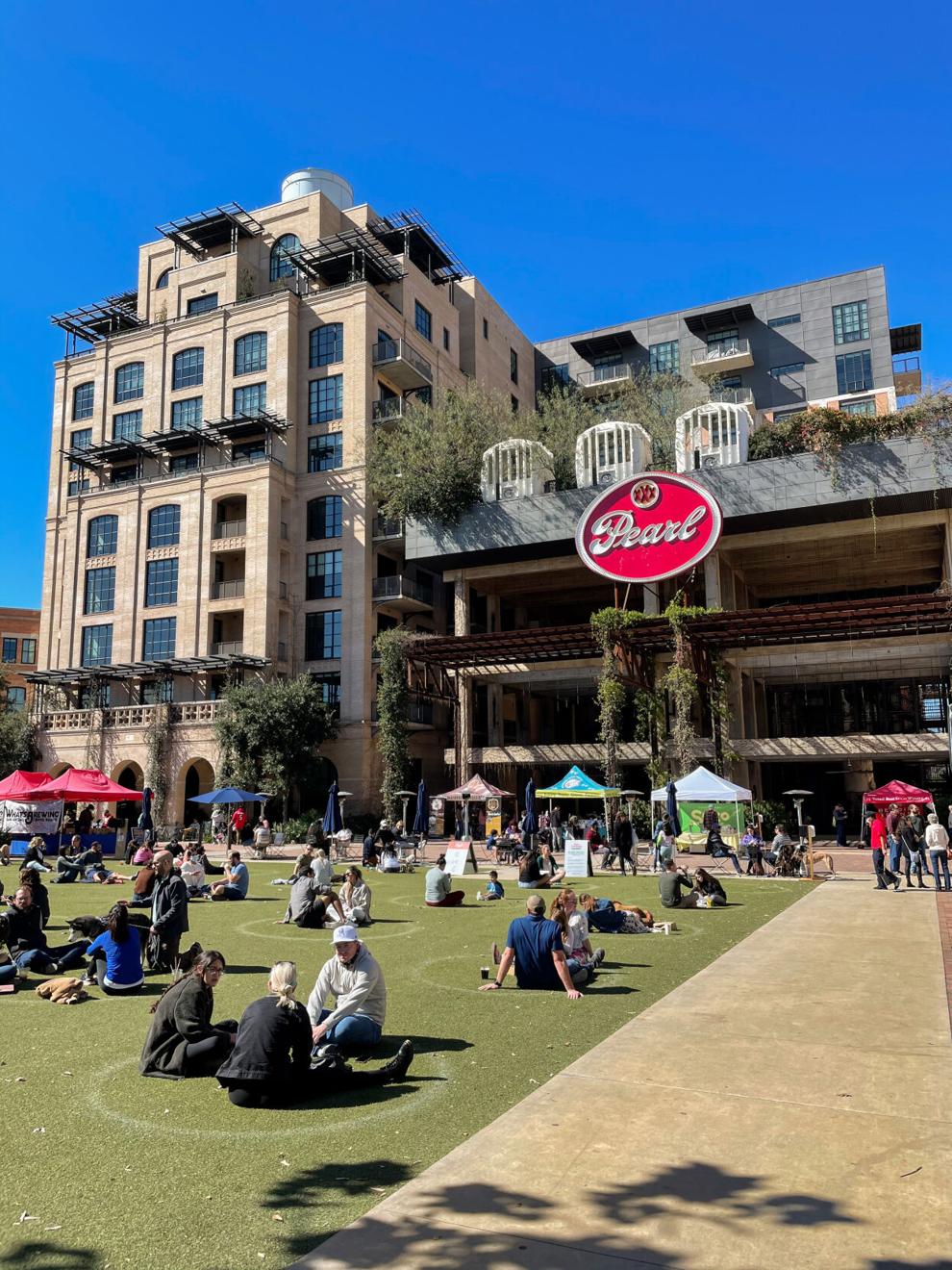 The Pearl, for example, is now one of San Antonio's trendiest districts. The Pearl, which is home to shops,  restaurants, outdoor markets, apartments and more, has revitalized space previously occupied by the historic Pearl Brewery.
The site formerly operated by Pearl Brewing Co. dates back to 1883 when it was originally owned by J.B.  Behloradsky Brewery and the City Brewery. In 1883, an investment group purchased the property and that same year San Antonio Brewery formed. In 1887, the popular Texas beer known as Pearl originated. In 1952, the brewery changed its name to Pearl Brewery after the iconic brew.
The brewery changed hands a couple of times, eventually coming under the umbrella of Pabst Brewing Co. It closed in 2001.
The brewery grounds were repurposed and are now home to locally owned restaurants, weekly farmers markets and unique shops.
The former bottling plant, for example, is now a food hall that features a variety of cuisines from ramen to Mexican street food.
For those who want to know where the locals go in San Antonio, look no further than Southtown. Just a few blocks from most of San Antonio's tourist attractions, Southtown features an up-and-coming arts community, unique shopping and contemporary dining that puts a twist on fan favorites.
Be sure to visit Blue Star Contemporary Art Museum. Located on the banks of the River Walk, Blue Star  Contemporary is a 160,000-square-foot art museum that anchors what is known as the Blue Star Arts Complex. The complex comprises former warehouses that have been transformed into small artist galleries, studios, retail shops and more. The museum features rotating exhibits, artist talks and more. 
It's easy to spend a day relaxing and strolling at Blue Star Arts Complex. Oftentimes, artists are present in their  galleries and easily engage in conversations. Retail spaces offer unique shopping where visitors are certain to find one-of-a-kind gifts. Meanwhile, food and beverage options abound.
Outdoor family fun
The Japanese Tea Garden, which is free to visit, features a lush garden that is open to the public year-round.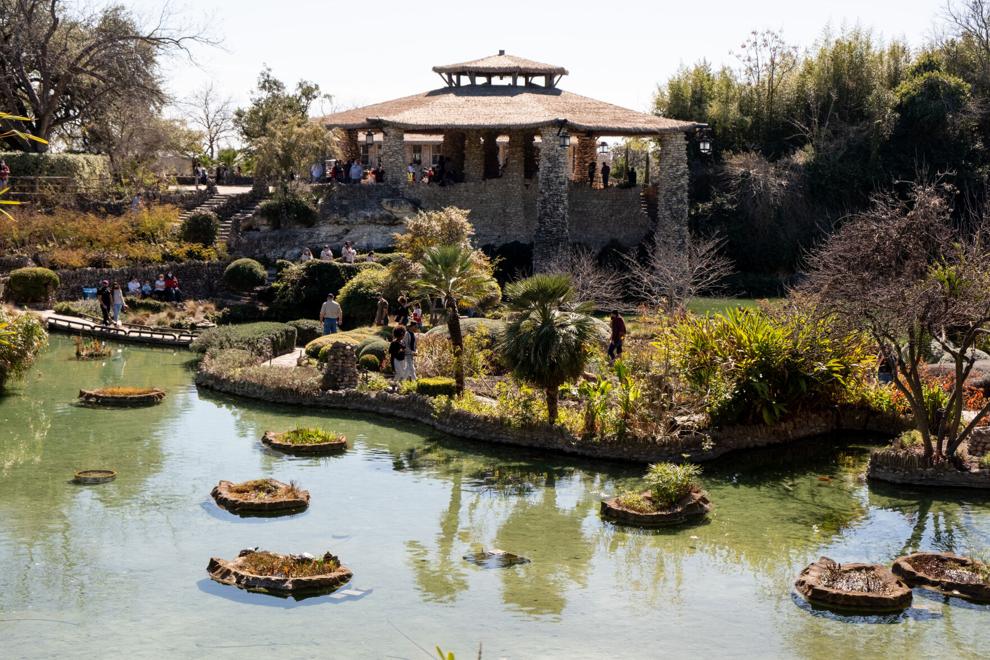 The tea garden was established on the site of a former operating rock quarry.
The quarry was transformed into a complex that includes walkways, stone arch bridges, an island and a Japanese pavilion.
When guests enter the tea garden, they'll first arrive at the pavilion. With beautiful stone columns, the pavilion is an ideal location to take in views of the full garden, including its lily ponds and waterfall. Walkways allow guests to have closer views of various features.
Meanwhile, the San Antonio Zoo features more than 8,500 animals on 56 acres of land. In addition to touring the zoo and viewing the wildlife, there also are a variety of unique experiences available to guests for an added fee. For example, for those who want to gaze eye to eye with the zoo's tallest mammal, giraffe feedings provide a unique experience. Other zoo experiences include behind-the-scenes experiences with different animals, such as hippos and okapi.
In other animal attractions, SeaWorld San Antonio gives guests an up-close experience with marine mammals. From animal experiences to a variety of rides and attractions, SeaWorld offers fun for the whole family.
Good eats
Taco 'bout some good food, San Antonio is home to some of Texas' best Tex-Mex and more. 
No visit to San Antonio is complete without a visit to Mi Tierra Café and Bakery. This world-famous restaurant is known for its authentic Mexican food and festive décor.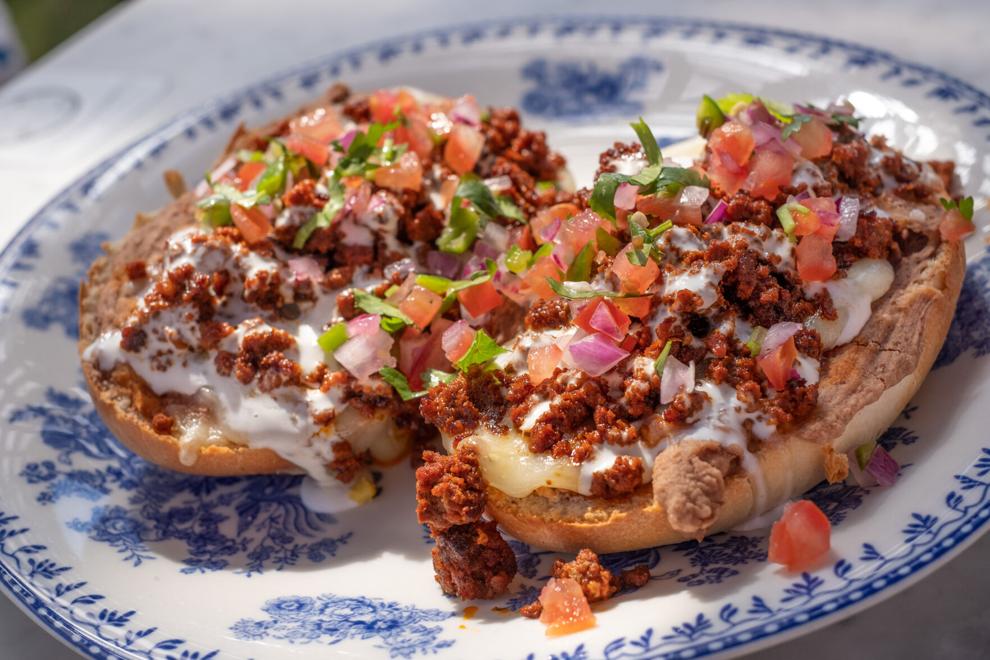 Open 24/7, Mi Tierra features bright decorations that hang from the ceilings and walls. The restaurant doesn't take reservations and there's often a wait, so be prepared to enjoy a drink or two in the bar or lobby while taking in the festive atmosphere.
The restaurant seats more than 500 and each room is uniquely decorated, including one that has an altar to the iconic Tejano singer Selena.
The food is to die for. While Mi Tierra's menu is vast with a variety of items, including breakfast that's served all day, a specialty is the El Rancho Special. This dish features succulent beef tips simmered in pepper, onion and tomato  sauce, served with guacamole, Spanish rice and beans.
While dining, guests will likely hear the musical selection of various Mariachi performers.
For a more contemporary take on traditional Mexican fare, visit Rosario's. This contemporary restaurant has  routinely ranked among the best in San Antonio for the last few years and for good reason: the food is simply divine.
Rosario's has two locations – one in Southtown and the other on the northern end of town. While the food is great at both locations, Southtown features a more unique ambiance to the dining experience. Southtown was the original location of Rosario's, which first debuted in 1992. Rosario's is now an anchor business in Southtown.
With live music, specialty cocktails, and good food, guests will leave Rosario's wanting to return. The menu features a mixture of Tex-Mex classics and house-made specialties. Try the chile relleno, a poblano pepper stuffed with spiced beef, potato and raisins, topped with ranchero sauce and white cheese. The dish is served with rice and beans.
If visiting on a weekend, check out the Weekend Market at The Pearl. This market features dozens of local food vendors selling a variety of fare. For a quick bite at the market, try YAPA Artisan Empanadas, which features home-made empanadas stuffed with a variety of toppings.
For coffee lovers, visit CommonWealth Coffeehouse and Bakery. This coffee shop, which has a few locations in San Antonio, features a quality cup of joe as well as authentic French pastries that are made from scratch daily, along  with breakfast and lunch items. 
On weekends, the brunch menu features a variety of homemade options. Try the CommonWealth Mollete, which features handmade viennois bread served open face with refried beans, fontina cheese, chorizo and pico de gallo. Or try the Avocado Toast, which features thick cut homemade French bread topped with diced avocado, red pepper  flakes, sea salt and microgreens.