Two red chairs beckon anyone who enters Chick-fil-A's new downtown corporate office, inviting them to pull a book off the library shelf and stay a while to read by the black-and-white cowhide rug.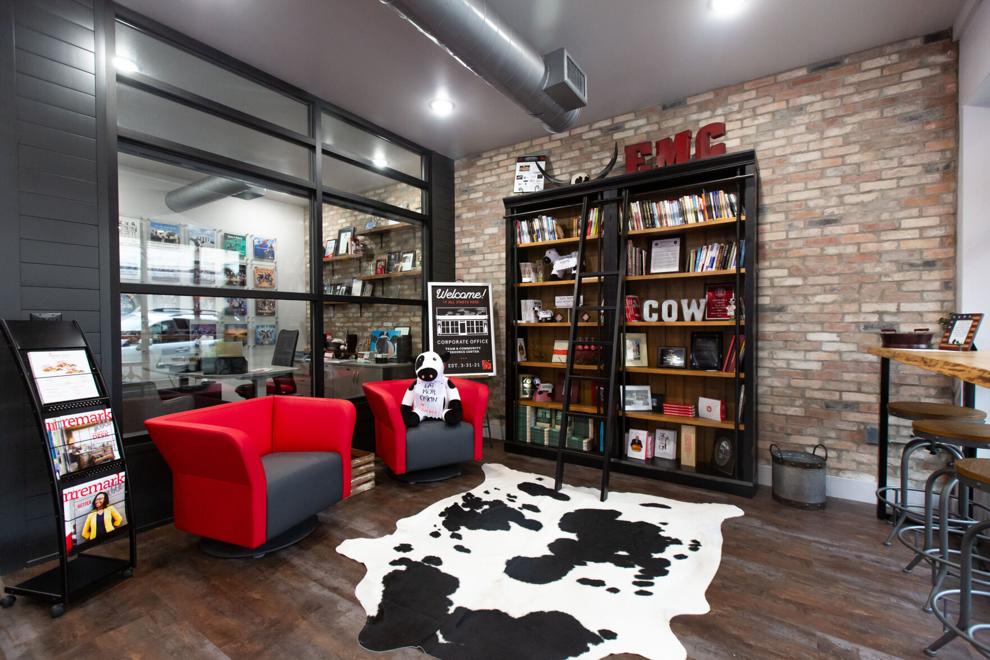 From the iconic, free-standing cows on the roof to owner David Murphy's collection of Chick-fil-A themed ties, subtle and not-so subtle references to the business are scattered throughout the newly redesigned interior of 108 E. Constitution St. in downtown Victoria.
After outgrowing their previous headquarters, a converted house on William Street, owners David and Tammy Murphy commissioned Victoria designer Shelby Stange to design their new office space. The new headquarters not only houses offices for upper management but also storage space, a conference room, kitchenette and one-bedroom apartment upstairs.
"Honestly, this project was the dream project," said Stange.
However, when she was first approached, Stange said she was "scared" and "intimidated." After earning a bachelor's degree in architectural studies from the University of Texas at Austin, Stange returned to Victoria and began working for Kimberlite Homes, a local custom home builder. But before this project, she said, she hadn't done any solo design projects.
Working off of a set of rough drawings that David Murphy had drawn, Stange drew up a design that met all of his requests. But she also drew up an alternative design that added some of her own elements and details.
"She showed it to us, and I was like, 'Oh my gosh.' Now, I know why I sell chicken, and she does this," said Murphy. "She had moved walls and redesigned spaces and put textures and finishes into things that I never could've possibly dreamed of, and we just fell in love with it."
When you first enter the building, the mix of modern and old is immediately evident. The front room, known to team members as The Hub, is designed with the intention of providing a shared space for the community. The room is brightly lit by numerous windows. Individual and group work stations are scattered throughout the room, each equipped with an iPad. Meanwhile, the exposed air duct and faux-brick wall are reminiscent of the building's history.
"I was just excited to bring a modern industrial design to downtown Victoria," said Stange. "I love marrying together the old and the new — the old building with the new design."
Murphy hopes to see the space full of team members. The iPads and internet access are provided for them to use at any time.
"We wanted a space that our team could feel comfortable coming in to utilize," said Murphy.
Many of their employees are students. Murphy said he built The Hub because he's cognizant of the fact that not all of them have internet access or a quiet space to study at home. He also plans to buy textbooks for many of the required college courses, so team members can borrow the books from Chick-fil-A's library rather than buying them.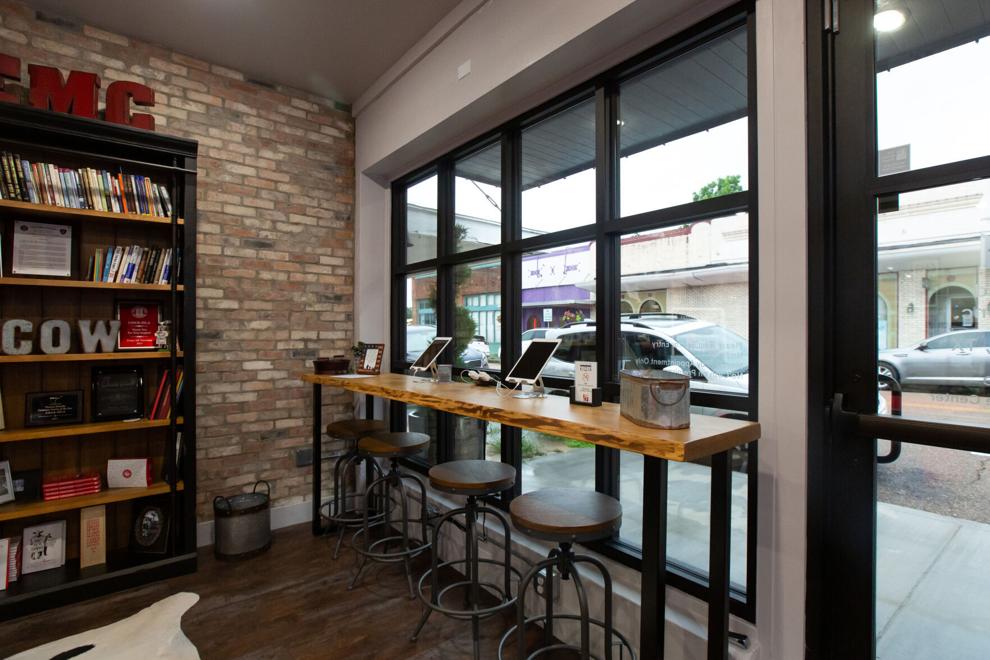 While Stange's design still met the needs and requirements of Murphy's request, she also had made subtle changes that entirely shifted the feel of the space.
"I'm always looking for ways to take ideas to the next level," said Stange. "I really didn't change it a whole lot. I mainly just shifted a few things here and there, and just by making those small changes, it made a huge difference."
One small change that made a huge difference was in the hallway that leads from The Hub all the way back to the rear exit.
The original space had a long straight hallway, allowing a visitor to nearly see all the way to the back wall of the building. In Stange's design the hallway bends right after Murphy's office, which cuts off the rest of the offices and hallway from view. That slight bend also brings the focus back to Murphy's front office and The Hub.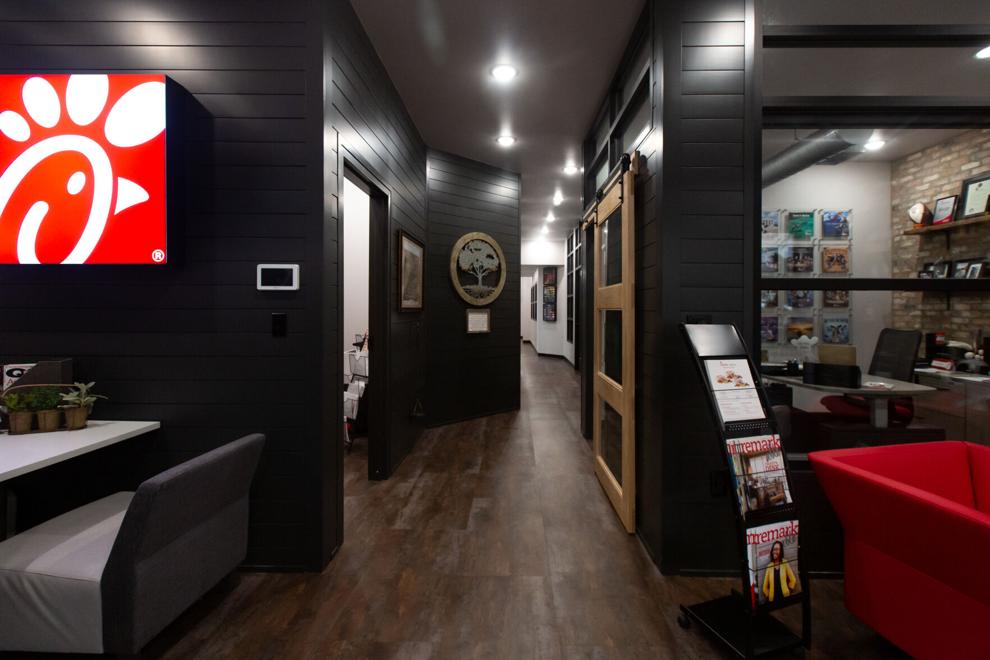 "As soon as I figured that out, it just kind of clicked. And I was just so excited to be able to share that with everyone," said Stange.
Stange's design also added interior windows into the walls of nearly every office and room in the building, inviting passerby's into the space.
"Chick-fil-A is all about hospitality, so figuring out ways to carry that through with the design, I think, was important," said Stange.
Upstairs, a one-bedroom apartment highlights the industrial elements of the building. Exposed air ducts and the building's original metal beams hang exposed over the living room and kitchen space, while faux-brick and shiplap walls create a cozy feeling.
The apartment is often used by the Murphys, whose primary home is in Rockport.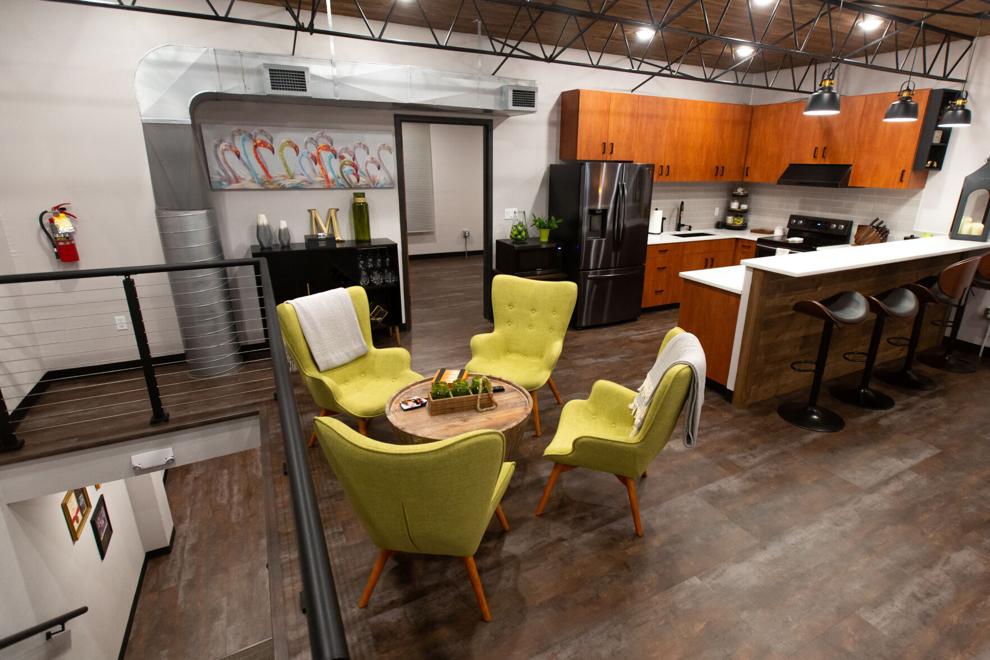 Since the headquarters' grand opening in March, Stange has been able to transition to working full-time at her own design firm, Grey Feather Design Studio.
She is designing the new Sightcast Recruiting Group Office, 508 N. Moody St. The design, she said, will also incorporate modern industrial elements.
"My business is my main source of income at this point," said Stange. "That's exciting because it wasn't a year ago."